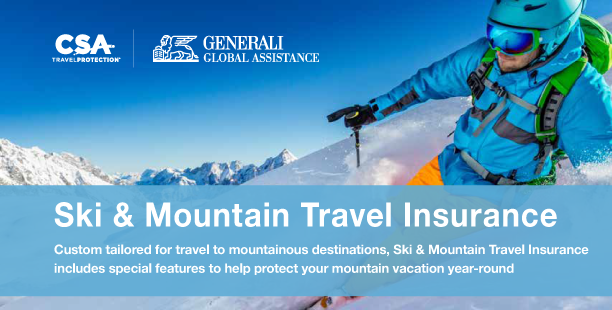 Before You Go
Unable to travel because you're sick? No problem! Trip Cancellation coverage keeps
you from losing your vacation savings if you need to cancel for a covered reason.
Plus, Concierge Services can help you make restaurant reservations, order flowers,
arrange tee times—and more—at your request.
During Your Vacation
Worried about closed ski lifts due to lack of snow, a road closure delaying your arrival
or a power outage interrupting your stay? Our travel protection plan offers valuable
reimbursement if a covered reason forces you to incur additional expenses or lose
prepaid trip costs. Sporting equipment coverages are also included. All plan holders
receive 24-hour emergency and roadside assistance services.

After You're Home
At CSA we strive to keep our claims process as hassle-free as possible. One
dedicated claims team member will work with you from start to finish, making sure
you receive the responsive, friendly service you need. Identity Theft Resolution
Services offer you 180 days of service starting on your scheduled departure date—
even after you've returned home.
If you have question about COIV-19 and Travel Insurance, please find more information here
Please contact us if we can add Travel Insurance to your stay. 
** Travel Insurance has to be purchased by FINAL payment due date ****