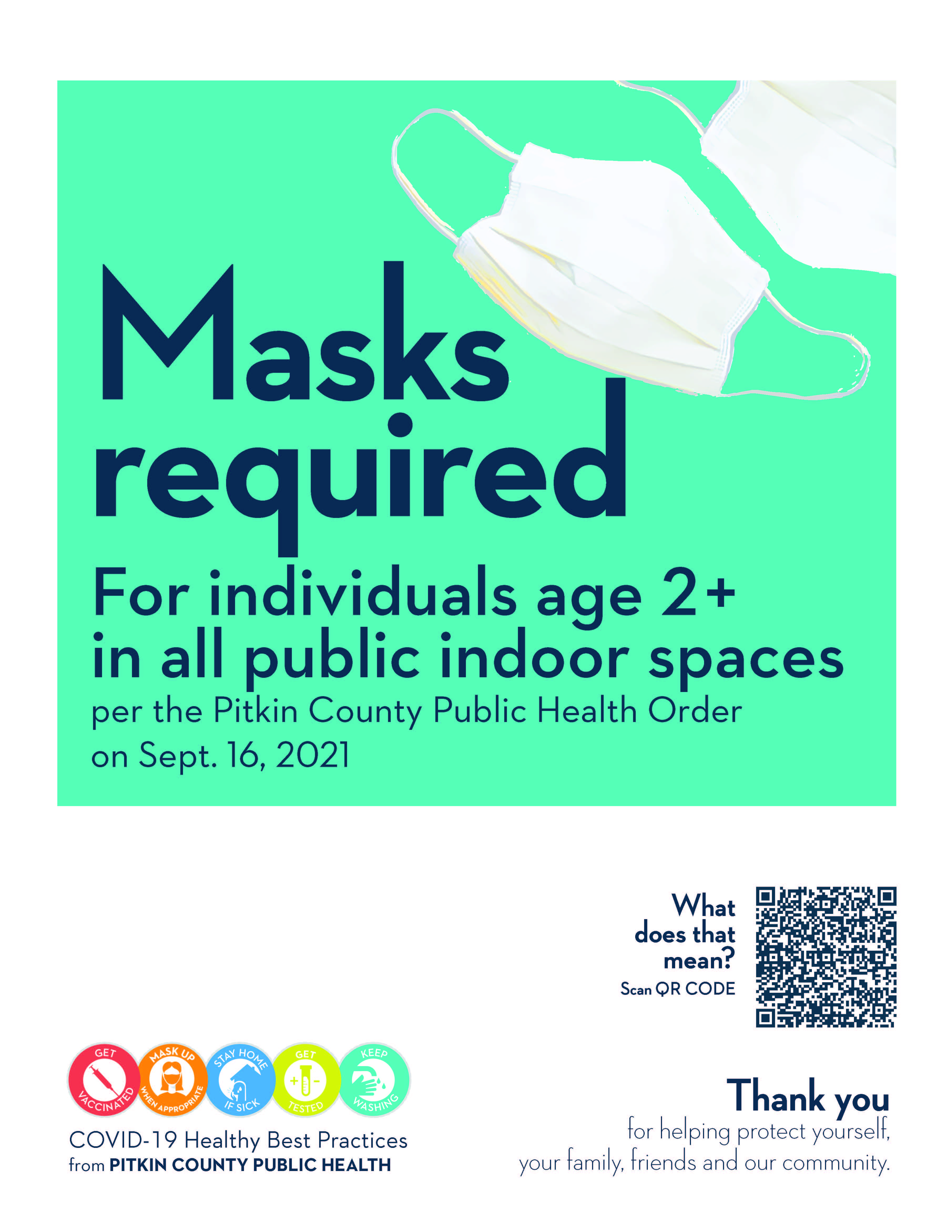 Pitkin County Indoor Mask Order
Overview September 2021
 Indoor mask requirement effective in Pitkin County beginning Sep 16th. Learn more.
Effective on September 16, 2021, individuals 2 years or older are required to wear a face covering in all indoor public spaces, regardless of vaccination status. 
Why
With the continued transmission of Covid-19 stressing our local hospital capacity, the Board of Health instructed Pitkin County Public Health to implement a new mask order. 
Where 
Public indoor spaces. This includes event spaces, businesses, restaurants, gyms, government buildings and facilities, and offices. Does not apply to outdoor spaces
Who
Everyone over 2 years old
When 
All the time except for a few situations like actively eating in a restaurant, while swimming in a pool, getting medical or personal services or specific indoor sports. Find out more here. 

The mask requirement will stay in effect until Pitkin County's risk level, per the CDC Data Tracker, decreases to the moderate or low level for 21 consecutive days. At this point the mandate will be removed. It will be reinstated if the risk level moves to substantial or high for five consecutive days. 
Enforcement
In coordination with our law enforcement officers, we are asking anyone who wishes to report a violation to complete this form (also available on our website). Our Consumer Protection team is monitoring all violations and may reach out for more information.
 Businesses as well as owners and operators of any public indoor space in Pitkin County are required to post signs at all entrances indicating that a mask is required for all individuals age 2 and older, regardless of vaccination status, in order to enter.