*** NEW HOURS THIS FALL ***
Here are a few things you should know before your Fall arrival:
 *  You can expect an email and/or text from a 3rd party called Canary Technologies. This will be in lieu of the check in that is normally done at the Front Desk. You will be asked to enter your credit card and ID. Then you just have to come to the Front Desk to pick up your keys. 
 * Our Front Desk will be open 7 days a week from 9:00 AM - 5:00 PM.
 * If you anticipate your arrival to be later then 5:00 PM, please contact the Front Desk at 970-925-7820 or email us at info@aspenalps.com
 * Our Health Spa & Fitness Center and the Pool  will be closed as of Monday September 28th.
* The Hot Tub is open 7 days a week from 9AM-5PM.
* Tennis courts will remain open as weather permits during the Fall
 * Transportation will be offered 7 days a week during the hours of 9:00 AM - 5:00 PM. 
 * With the new housekeeping procedures the apartment will be serviced every 3rd day, but we are happy to offer fresh towels daily, or take away any trash. 
 In the past few weeks, the Aspen Alps has been working on our best practices to protect both you and our staff, with the new guidelines that have been distributed in the hospitality, vacation rental industry and compliance with our local and federal guidelines. This has been a constantly evolving situation. We are confident that as guidance changes, we will need to adapt to best serve you.
WORRY FREE SUMMER CANCELLATION POLICY
Given these uncertain times, we understand that making a commitment to travelling can be a challenge.
Summer 30-day Cancellation and Deposit Policy (Now through September 30, 2020)
A 50% deposit is due upon making the reservation.
Up to 30 days prior to arrival your reservation is fully refundable.
100% payment is due 30 days prior to arrival, at which time the stay is non-refundable.
This is what you can expect from us when you come to the Aspen Alps;
GENERAL
The Aspen Alps is supporting and implementing "enhanced" hand hygiene for guests and employees by providing sufficient hand sanitizer at property entry points and key areas, and also encouraging handwashing regularly with water and soap for at least 20 seconds.
We are implementing social distancing policies on the property and during any interactions with guests, staff, local community, as well as minimizing points of contact when possible.
We are monitoring staff health on a daily basis, and encourage guests to self-monitor for symptoms, follow advice from local authorities, and seek medical assistance if needed.
All Aspen Alps staff member will be wearing a Face Mask Law for your and their protection.

TRAINING
The Aspen Alps has a COVID-19 Business Safety Plan in place. Each employee is aware of the rules and regulations to be followed to keep everyone safe and healthy.
All staff has been trained on the importance of wearing personal protective equipment, how to use, care for and properly dispose of PPE.
All staff has been educated on how COVID-19 is transmitted, high risk populations, and how to avoid touching their face during cleaning, as well as any unnecessary contact with surfaces.
Check In
Contactless registration card: we will be sending you a registration card prior to arrival to submit back to us. Once received you can come to the Front Desk with your ID and a sanitize pack of keys will be given to you.
Concierge Services
Call or email us to get the up to date information on what is open and ongoing in Aspen.
The Front Office
Our Front Desk staff is equipped with PPE and trained to comply with social distancing requirements. Sneeze guards have been installed at our Front Desk to protect both our staff and guests. Either one person, or one party from the same household can come in to the office and everyone is required to wear a mask. Or we are just a phone call away.
Fitness Center & Health Spa
In order to allow sufficient time for cleaning and sanitizing procedures, the Fitness Center is open 7 days a week from 10:00 AM – 6:00 PM. To accommodate social distancing, there will be a limitation of 4 people in the gym and therefore we ask the guest to sign up in advance 1 week in advance. Because of social distancing, the Steam Room and Sauna in the ladies and men's locker rooms will remain closed until further notice.
Private Training & Pilates
Rosey Murphy will be available for Private Training and Pilates, and can be contacted at 970-948-2261.
Housekeeping
Our housekeepers are all on staff, and we monitor their health when they check in for work each day. They are provided with PPE, including masks, disposable gloves and personal hand sanitizer. Gloves are changed between properties and after certain in-unit tasks.
We have rigorous cleaning protocols that now include disinfection procedures. Here are some highlights:
SEASONAL DEEP CLEANS
Each spring and fall, our teams conduct maintenance inspections and deep cleans of all our rentals. This process allows us to fix any broken or worn out equipment and furnishings as well as move furniture and appliances to thoroughly clean all areas of the rental.
NEW: Unnecessary items have been removed from the condominium, such as extra pillows, extra blankets, coffee amenities, toiletries, paper notepads, and pens. If we can help to make your stay more comfortable – please contact the front desk and we can deliver many items to your door!
PREPARING RENTALS FOR NEW ARRIVALS
We are staggering reservations to allow 48 hours between a departure and a new arrival. This delay protects both our housekeepers from any possible exposure and ensures that incoming guests arrive to a completely reset, clean condominium.
All cleaning and disinfect solutions are EPA-approved for use against SARS-CoV-2 (the virus that causes COVID-19), are used as specified by the manufacturer's instructions.
All units are ventilated during and after the cleaning process.
Our entire staff will be work to prioritize the cleaning of high-touch areas both inside and outside units. Inside unit areas include: entry door key pads, door handles, light switches, telephones, TV remotes, fan pull chains, toilet handles, toilet seats, nightstands, coffee tables.
NEW: Look for the place card by the rental's front door that provides a date-stamp and certification of cleaning.
HOUSEKEEPING SERVICE IN YOUR CONDOMINIUM
Housekeeping will be servicing your room every third day. Please check with the Front Desk on the timing of your service. Housekeeping will be calling you 30 minutes before their arrival, for you to vacate the apartment.
NEW: We have removed all printed materials, like magazines, maps, and dining guides, and we are hosting our Aspen activity guides on our website.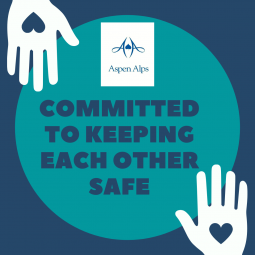 Maintenance
The Maintenance Team has throughout checked your condominium prior to your stay If you came across an issue in the apartment, you can call the front desk. The condominium will need to be vacated prior to maintenance coming. The Front Office Team is happy to schedule the time and date with guest in communication with the Maintenance Team.
Newspapers
The local newspapers will be delivered daily. If you wish to have either the New York Times or Wall Street Journal, you can call in advance to the Front Desk to purchase the paper(s) and have them delivered to their apartment.
Packages
The Front Office will be able to receive packages, and will call to schedule delivery. To maintain social distancing the package will be placed outside the apartment. The bellman will not leave packages outside without your prior acknowledgment.
Pool & Hot Tub
To allow proper cleaning and sanitizing procedures, the Pool will be open 7 days a week from 10:00 AM – 6:00 PM. The setup of the furniture has been changed to adhere to the 6' social distancing. There will be a limit of 10 people at a time in this area.  It is everyone's responsibility to adhere to social distancing. If you believe it to be crowed you can take your leave and return at later time.
Services
Grocery and Liquor Delivery: please give us 24-hour notice of the order, prior to your arrival or while you are in house. For your safety we will not be entering your apartment prior to your arrival when it has been sealed and sanitized. 
Restaurant Take Out: our bellman are happy to pick up your food order from your favorite restaurant and deliver this to your apartment. You will have to be in your apartment to accept the delivery. Please arrange for payment prior to the food pick up.
Transportation
The Aspen Alps will continue to offer transportation in and around Aspen as well as to/from the Aspen airport under the following conditions:
All employees and guests must wear masks while inside the vehicles.
No more than one party per vehicle, with a maximum of 4 guest per vehicle. 
Guests may not sit in the front seat. 
Bellman will disinfect vehicle after each ride, and have sanitizer available. 
The bellman will be adhering to limited contact. 
Rides will have to be scheduled through the Front Desk in advacne.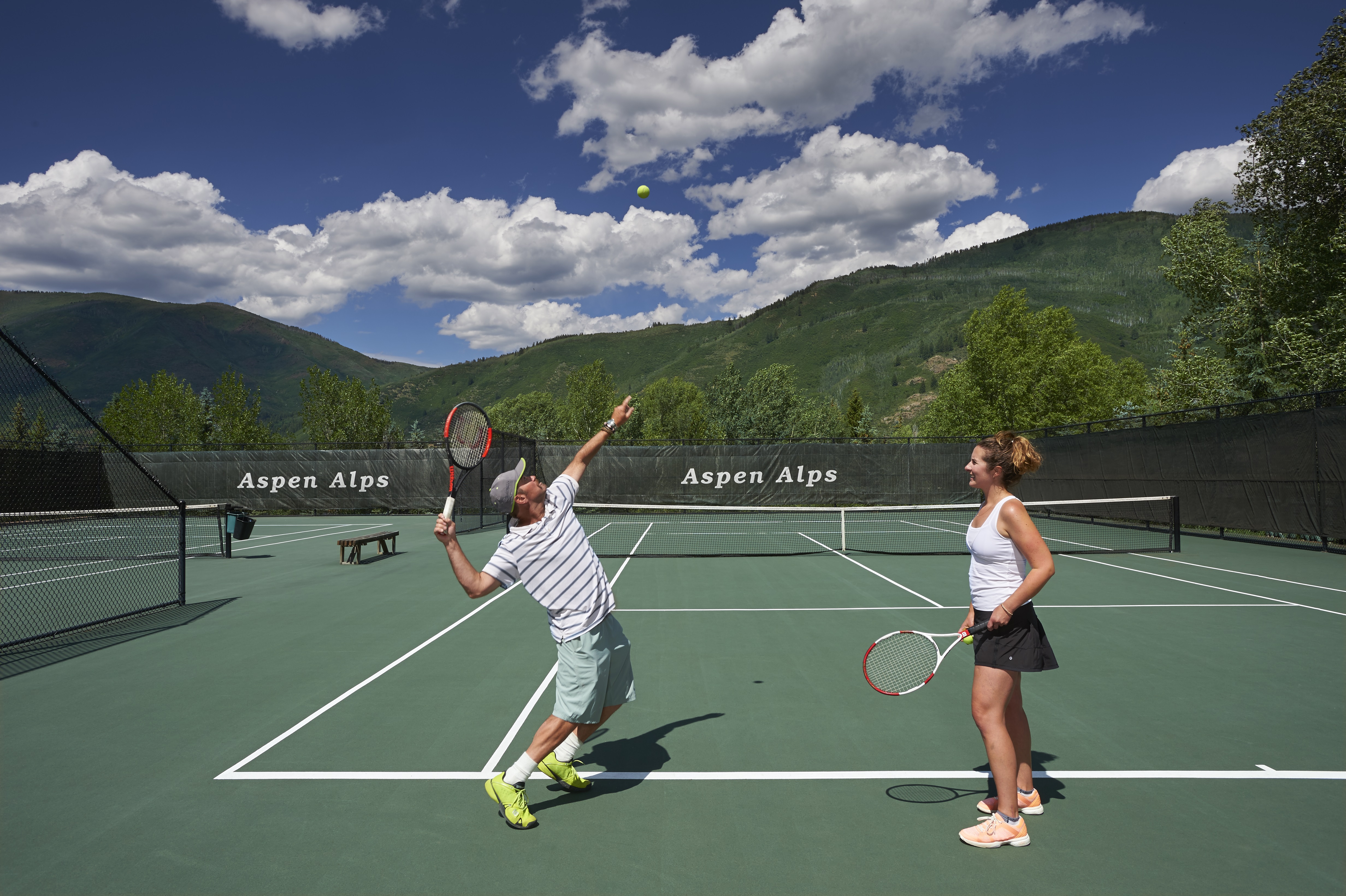 Tennis - Last Drill on September 25, 2020 for the Summer 2020 season 
Our Tennis Courts are open and available for you to play on. It will remain at a first come, first serve bases. The tennis courts are open 7 days a week from 10:00 PM - 6:00 PM. 
Kevin Arias, Aspen's premier tennis professional, will be offering some great tennis opportunities this summer.
Drill schedule: Monday – Wednesday – Friday 9AM-10AM Open Drill $30/person
Tuesday – Thursday 9AM-10AM 3.5+ Drill $30/person
Private Lesson: $120/hour
To book a lesson or to inquire about the tennis program please call Kevin Arias at (912) 222-3247 or email arias.tennis@gmail.com